American-Vietnamese involved in the same issue, one deported home and the other in prison for 12 years. Democrats want him released or no trade, over human rights.
Two Americans sentenced to prison in Vietnam. One got out; the other can't (article).

"American-Vietnamese citizen William Nguyen was deported him shortly after his brief trial" concluded that he was guilty.

Media has erroneously labelled the demonstrations, for which the two men are attached to, as PRO DEMOCRACY MOVEMENTS. The truth of the matter is that they were calling for more oversight of development deals with China.
"After demonstrations against the land concession proposal spread to several cities throughout Vietnam in June, authorities arrested dozens of protesters and have sentenced several to prison." Perhaps using concerns over a 99 year lease with China for anti-government ends. (article)

Human Rights Watch, which has documented this incident, must recognize accordingly, "Sovereign equality, respect for the rights inherent in sovereignty" according to the Helsinki Accord on which they are based. (https://en.wikipedia.org/wiki/Helsinki_Accords)
The official USA line in relations with Vietnam, opposes similar foreign behavior; "The statement described China's behavior as "bullying" and called on Beijing to "refrain from engaging in this type of provocative and destabilizing activity." (https://thediplomat.com/2019/07/us-slams-chinas-bullying-amid-vanguard-bank-oil-exploration-standoff-with-vietnam/)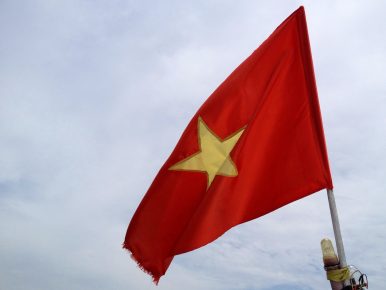 Private corporations heed the laws in Vietnam. "Parent company Google has tried to shut down about 8,000 YouTube videos as ordered" (article)

"Michael Nguyen was detained in July last year while travelling with two activists on a visit to Vietnam…Many war refugees mobilised against the communist government from afar, but Nguyen's family have said he is not involved with any dissident" (article)